This drink is my newest obsession. It is a healthy alternative to your normal hot chocolate with all of the sugar. Plus, because of the fats in it, it gives you energy!
I haven't been feeling good lately. Our family was plagued with a sore throat and stuffy nose. I wasn't feeling like my normal bulletproof coffee. Not in the mood for coffee!? I know I know…crazy right! Hot chocolate sounded so good to me. But, I didn't want all of the sugar. As, you probably know, sugar can cause inflammation and many other health problems and I didn't need to make this cold any worse. I decided to make a healthy hot chocolate. I got the inspiration for this drink from a youtube channel that I love to watch called Sarah's Day. Talk about coincidence but her name is Sarah Anne…too weird right…cause I am Sara Ann…lol Anyway, this recipe is hers with a little twist.
This recipe is super easy!
Things needed for this recipe:
24 oz of hot water, almost to a boil (.."if you like this drink as big as your head!")
1 T of raw cacao powder or cocoa powder
1 T of grassfed butter
1 T of coconut oil
1/2 c almond milk or 1/4 cup heavy cream
liquid stevia drops to sweeten or 2 T of pyure (powder stevia blend)
Now, add all of these ingredients to the blender and blend for 20 seconds.
Pour this tasty drink into your BIG Mason Jar and enjoy!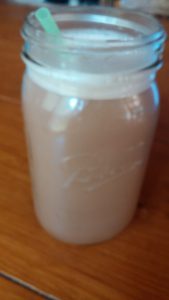 This drink is super healthy and super delicious!