One of the hardest parts about eating a low carb or any diet is having a quick go-to recipe. We get hungry and want something fast or we end up eating out of the no no cupboard. Am I right? This recipe can be one to keep in your arsenal of quick diet recipes. It will keep you on track and satisfy your taste buds.
This is for my low carb friends and anyone who loves a good mushroom and cheese burger.
Fire Roasted Mushroom and Provolone Burgers
2016-07-20 15:00:46
A quick and low carb recipe!
Nutrition Facts
Amount Per Serving
* Percent Daily Values are based on a 2,000 calorie diet. Your Daily Values may be higher or lower depending on your calorie needs.
Ingredients
1 lb grass fed ground chuck
4 slices provolone cheese
1 - 8oz. bag fire roasted button mushrooms (I used Phillips brand from WalMart)
salt, to taste
pepper, to taste
garlic salt, to taste
1 T grass fed butter (I use kerrygold)
Instructions
1. Take your beef and make 4 equal sized patties.
2. Season your patties with above ingredients or use your favorite burger seasonings.
3. Brown the patties in a skillet over medium heat, until cooked to your preferred doneness.
4. Meanwhile, saute the mushrooms over medium-high heat.
5. When the burgers and mushrooms are done cooking, remove from heat. You can now assemble your burgers
6. Preheat your oven to 350 degrees.
7. Place your burgers on an oven safe plate or tray.
8. Top each burger with a slice of provolone cheese and 1/4 of mushrooms.
9. Place tray into oven and bake until cheese is melted.
10. Serve with your favorite low carb veggie.
Enjoy!
LoperLiving.com http://www.loperliving.com/
This meal is delicious and full of flavor! Because I love flavorful food so much, the mushrooms used are not just plain button mushrooms. Oh no! They are fire roasted button mushrooms. (If you are curious, I got them at Walmart in the frozen section…they are Phillips brand) They take the flavor to a whole new level!
The first thing I did was take 1 lb of our grass fed beef and make 4 patties, each being 1/4 lb. I used my favorite seasonings on them but you can use anything you like.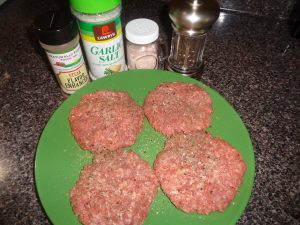 Now, using a cast iron skillet, (just my recommendation but whatever you like will work) brown your burgers according to your preferred doneness.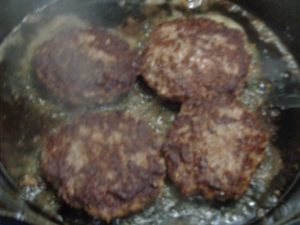 Meanwhile, start sauteing your mushrooms in 1 tablespoon of butter. Saute until golden brown.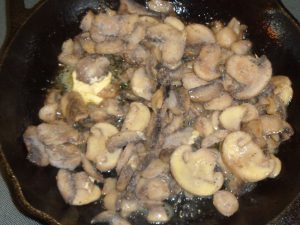 Preheat the oven to 350 degrees. When the burgers are cooked through and the mushrooms are done, it is time to assemble our burgers. Set your patties on an oven safe plate or pan. Take 1 slice of provolone cheese and place on top of each patty. Then top with 1/4 of mushrooms (I say 1/4 because it makes this low carb if using 1 serving of mushrooms which is 2 oz or 1/4 of the mushrooms). Put in the oven until the cheese is melted. This only takes a couple of minutes.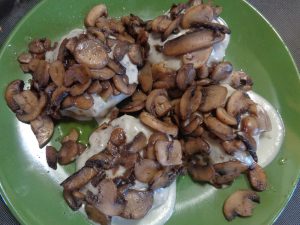 This is the finished product! That was easy right!? They are simply delicious and full of flavor! You will love them.
Try them today and leave me a comment to let me know what you think.
Bon appetit!