I have made my kids many different kinds of oatmeal over the years but I have to say: this one exceeds them all! They all loved it! It definitely tastes just like a cinnamon roll; from the cinnamon sweet goodness of the oatmeal, right down to the sweet cream cheese sauce on the top. This will become a favorite and a staple in your list of morning breakfast recipes.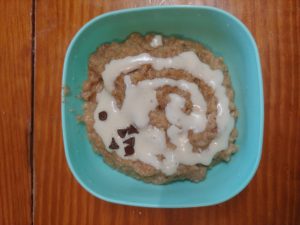 Ingredients for oats:
5 c milk
3 c quick cook oats
1/2 c brown sugar, packed
2 T cinnamon
1/4 tsp salt
Ingredients for icing/cream:
4 oz cream cheese, softened
1tsp vanilla
1/4 c powered sugar or I used confectioners swerve
2 T milk
1. Over medium heat, bring milk and salt to a low boil.
2. Add the oats, brown sugar, and cinnamon to the milk and stir often. It will only take about 5 minutes for the oats to soften.
3. While oats are cooking, make the icing/cream.
4. Add the cream cheese to standing mixer and mix until smooth.
5. Add the vanilla and powdered sugar.
6. Add the milk slowly until it is a thin consistency, able to drip off of a spoon.
7. Add the oatmeal to a bowl and drizzle on the icing.
8. Serve immediately and enjoy!