A twist on plain vegetables. Bring your veggies to life!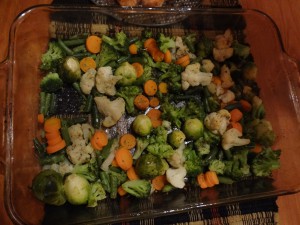 Roasted Vegetables
2013-11-07 19:37:33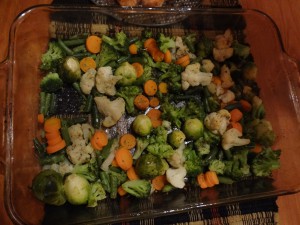 Serves 6
Nutrition Facts
Amount Per Serving
* Percent Daily Values are based on a 2,000 calorie diet. Your Daily Values may be higher or lower depending on your calorie needs.
Ingredients
1 cup broccoli florets
1 cup cauliflower florets
1 cup carrots
1 cup green beans
1 cup brussel sprouts
Italian seasoning, to taste
Garlic Salt, to taste
Salt, to taste
Pepper, to taste
Olive Oil, drizzle
Instructions
Measure out vegetables. Lay in a 13 x 9 in pan. Sprinkle seasoning over vegetables; salt, pepper, garlic salt, and Italian seasoning. Drizzle with some olive oil. Bake at 350 degrees F for 30 minutes.
LoperLiving.com http://www.loperliving.com/