Delicious and succulent salmon!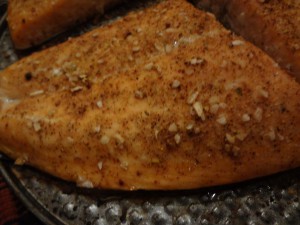 Seasoned Salmon
2013-11-07 19:17:53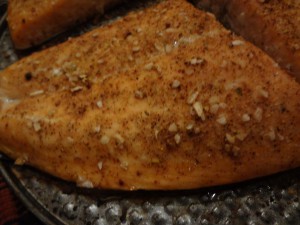 Serves 4
Delicious and succulent salmon
Nutrition Facts
Amount Per Serving
* Percent Daily Values are based on a 2,000 calorie diet. Your Daily Values may be higher or lower depending on your calorie needs.
Ingredients
4 - 6 oz Salmon Fillets
salt, to taste
pepper, to taste
garlic salt, to taste
minced onions, to taste
salmon seasoning, to taste (I use McCormick's Grill Mates Salmon Seasoning)
olive oil, drizzle
Instructions
Rinse the Salmon and pat dry. Lay the salmon on a flat baking pan. Season with the salt, pepper, garlic salt, minced onions, and salmon seasoning. Drizzle with a little olive oil. Bake on 400 degrees F for 12-15 minutes. Enjoy!
LoperLiving.com http://www.loperliving.com/