This homemade pizza is to die for. It has taken me a while to perfect this recipe. The dough is soft and flavorful and making it homemade means you can add any toppings you want. Get creative!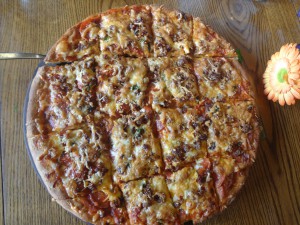 Sara's Homemade Pizza
2013-05-30 15:17:27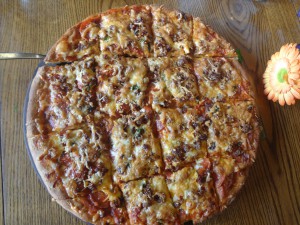 Serves 4
Yummy homemade pizza any way you like it!
Nutrition Facts
Amount Per Serving
* Percent Daily Values are based on a 2,000 calorie diet. Your Daily Values may be higher or lower depending on your calorie needs.
For the dough
1 Tablespoon active dry yeast
1 tsp sugar
2 tsp salt
2 3/4-3 cups bread flour (I use King Arthur's flour)
1-2 Tablespoons olive oil
1 1/2 cups warm water
For the pizza
1/2 jar of pizza sauce (this can vary if you like less or more sauce)
toppings of your choice
Mozzarella cheese (as much as desired)
1/4 parmesan cheese
Instructions
Add the sugar, salt, yeast and flour and combine. Then, add the wet ingredients to form a soft dough. Add flour if needed. The dough should no longer be sticky but do not over knead. Place in a greased bowl, turning once to grease top. Cover and let double is size in a warm place for about 45 minutes. After the dough has risen, half the dough. Roll out the dough to fit 14" pizza pan. Build up edges slightly unless you want thin crust.
Spread the pizza sauce over crust with a spoon or ladle. Sprinkle the parmesan cheese over the sauce. Top with your favorite toppings. Sprinkle on the cheese. Bake at 425 for 15-20 mins (depends on how crispy you like your crust) or until crust is just lightly golden. Serve and enjoy!
LoperLiving.com http://www.loperliving.com/