Every once in a great while, when I am playing in the kitchen with different foods, an idea comes into my mind. I had an epiphany last night. I had every intention of making calzones. Don't get me wrong, my family loves my calzones…but it sparked another idea. As, I started to roll out the dough to cut it into individual size calzone pieces, I thought, "Why not make a pizza roll…just like cinnamon rolls but with pizza!?" Ding, ding, ding!!!! Winner!!!
I had to go with it! Afterall, it's not too often that these ideas just come into my brain. It was a fun thing to do with my oldest son too. He loved helping top the big roll with sauce, cheese, and pepperoni. He got so excited when I rolled it up and he got to help me cut it just like you do cinnamon rolls, and place them on a pizza pan. I think I just created a new favorite in our house!
So…first you will need to make the dough. It is the same as the dough recipe that I use to make my homemade pizza (check it out too!)
For the dough
1 1/4 tsp active dry yeast
1 tsp sugar
2 tsp salt
2 3/4 – 3 cups bread flour (I use King Arthur's flour)
1-2 Tablespoons olive oil
1 1/2 cups warm water
Place the dough into a bowl, cover with a towel and allow to rise in a warm place for about 45 minutes to 1 hour.
When dough has risen, flour your counter or surface. Using a floured rolling pin, roll the dough to create a rectangle about 12 inches wide by 16 or so inches long. It should also be about 1/4″ to 1/8″ thick. You don't want it too thick, as it will rise some upon cooking and you don't want more dough than pizza topping in your roll. It should look a little something like this.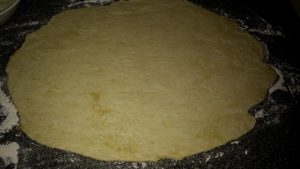 Next, spread some sauce over the dough. Make sure you leave a rim of about an inch or two around the edges so that when you roll your dough the sauce will not leak out. Add cheese to your sauce. As much cheese as you like! We like A LOT!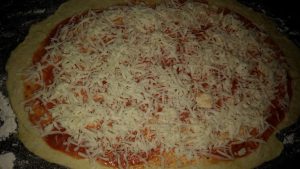 Now, you want to add your favorite pizza toppings. Anything you like! We decided to just keep ours simple for the kids. They love cheese and pepperoni.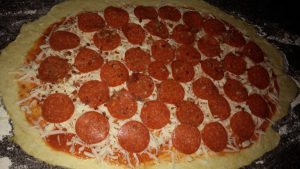 After you have all of your desired toppings place on your dough, gently begin to roll it up…just like you would with cinnamon rolls. It should look like this.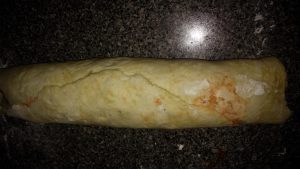 Press the seam down to seal your roll.
Just like you do with cinnamon rolls, the easiest way to cut your pizza roll is by using some poultry string. I just cut a piece that was long enough for me to have plenty of slack to hold onto. place your string under the end of your roll about an inch in. Cross the two ends of the string and pull the ends away from each other. With a roll this size, you should end up with about 10 pieces.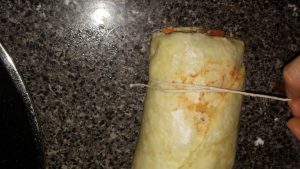 Place them on a large greased pizza pan.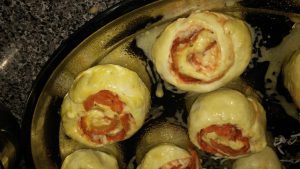 Don't they look beautiful!!?
Let's add some more flavor! Create an egg wash using 2-3 Tablespoons of butter, 1 egg, and sprinkle in some garlic salt to your taste. We like garlic salt!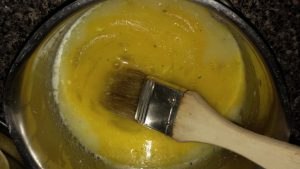 Using a pastry brush, spread the wash over the surface of the roll and on the sides. This will help create some crispiness on the outside of the roll while baking. It also helps to brown the roll, not to mention makes it taste delicious.
To add even more yum, I grated some fresh parmesan cheese over top and sprinkled on some oregano but you can skip this step if desired. Like I said before, we LOVE cheese.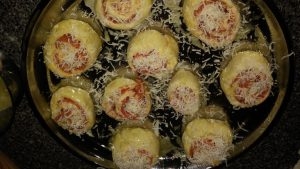 Place your rolls in a 450 degree preheat oven. Bake for 20-22 minutes (Baking times can vary based on your oven and other factors so keep an eye on them).
Feast your eyes on this sight!!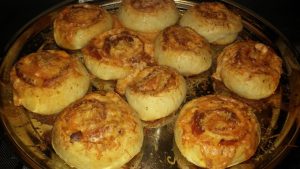 To enjoy these tasty morsels, add a side of pizza dipping sauce. Bon appetite!
If you give these a try, let me know what you thought. Would you change anything? Did you enjoy them? Leave me some feedback. =)
Happy Saturday!