This time of year gets me geared up to want to grill out! I love burgers and they happen to be my husband's favorite go-to food. He also loves his meat! Let's just say, I know I can't go wrong with bacon and beef! So, I decided to play around in the kitchen and come up with a burger that was sure to please him.
This burger has everything! It has caramelized onions, bacon, and even two different kinds of cheese! Add the condiments and it's perfection in a bun! Let's get started and I'll show you what I came up with.
First, fry your bacon until crispy. I love using our griddle because it cooks crispy bacon every time. It is virtually impossible to mess it up with this thing! Once you have cooked your bacon until crispy, set aside to cool.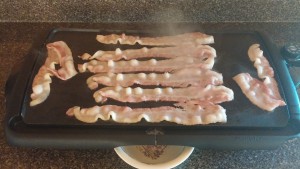 Next, dice your onion. Heat a skillet over medium heat. Add a tablespoon of oil. When the pan just starts to smoke, add the onions. Sprinkle liberally with salt. Then, add a tablespoon of water. Adding the water and salt will help to caramelize the onions. When the water has evaporated off, stir the onions and add another tablespoon. You may need to do this 3 or 4 times until you get those beautiful brown caramelized onions. It will take 7-8 minutes. Here is the finished product.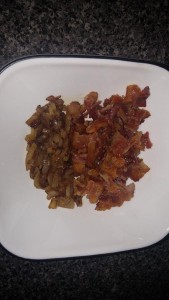 Set aside.
Cut the pepper jack cheese slices into 1/4's. I only needed 6 of the 8 squares since I made 6 burgers.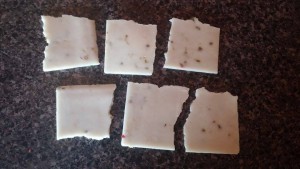 Form the ground beef into patties making sure to create an indentation in the middle of the patty. This makes a nice little pocket for your cheese, bacon, and onion to sit in.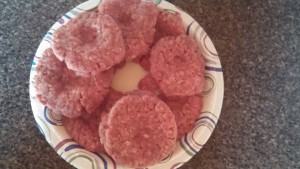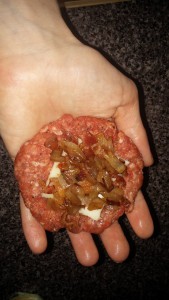 Take a second patty and place it on top. Gently press the outside edges of the patties together with your palms until it is sealed. Then, press the patties together to make the burger a little thinner, but making sure not to let any of the ingredients squeeze out.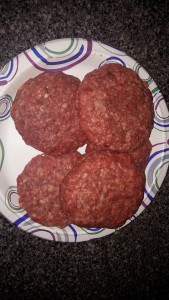 Now, I love to grill out, so at this point, I fire up my outdoor grill. But, they would taste just as good if you have to use an indoor grill or even a skillet. I take this opportunity, while the grill is heating up, to season the outside of the burgers.
Here are my favorite seasonings:
Tri-color peppercorns, Garlic salt, salt and Steak flavor enhancer (a seasoning we get through our meat guy)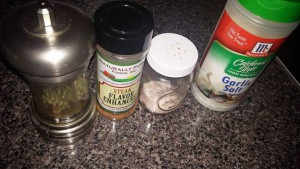 You can use any kind of seasoning you prefer. Be creative! There are so many different things you could do with the outside of these burgers.
When the grill has heated to about 350-400 degrees F, add your burgers. Cook for about 5-6 mins per side. After about a total of 12 mins, I like to set them on the side of the grill with no heat and add the cheese slices. Yes! That's right! More cheese! We add cheddar this time. Close your grill and give the cheese a few minutes to melt over those juicy burgers.
You can now plate your burgers and head back into the house to assemble.
I love the way the restaurants toast their buns a little. So, while my burgers are sitting, I like to butter the buns and place them in the 350 degree F oven for about 5 minutes. This just adds a tiny bit of crisp to the side of the bun that will be sitting on your beautiful burger patty. It also adds some flavor to the bun.
Assemble your burgers with your favorite condiments. We use lettuce, bacon, tomato, and pickle with a little ketchup.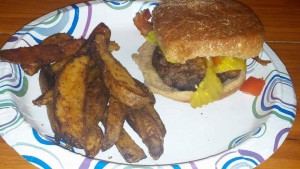 Your burgers are now ready to plate and enjoy with your favorite side. (Try my Oven Potato Wedges)
Enjoy and bon appetit!