These shells are perfect for a large crowd. They are meaty and cheesy and just delicious!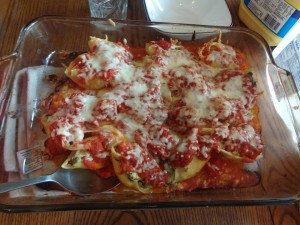 Sausage and Four Cheese Stuffed Shells
2014-03-10 16:49:09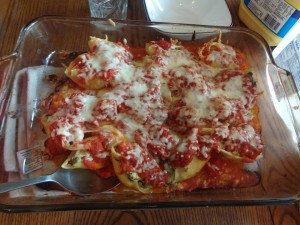 Nutrition Facts
Amount Per Serving
Total Carbohydrates
1458
g
* Percent Daily Values are based on a 2,000 calorie diet. Your Daily Values may be higher or lower depending on your calorie needs.
Ingredients
32 jumbo pasta shells
1 lb Italian sausage
10 ounces chopped frozen spinach, thawed and drained
4 eggs, beaten
2 cups ricotta cheese
2 cups shredded mozzarella cheese
2 cups shredded cheddar cheese
1 cup parmesan cheese
3 cups spaghetti sauce
Instructions
1. Cook pasta shells according to package directions.
2. Drain and rinse with cold water and drain again.
3. Combine remaining ingredients, except spaghetti sauce, in a large bowl and mix well.
4. Fill each pasta shell with 3 tablespoons, or so, of filling.
5. Place in a baking dish and top with spaghetti sauce.
6. Bake at 350 degrees F until heated through, about 30 minutes.
Notes
If you want to make this to freeze, freeze before baking.
Adapted from Loperliving
Adapted from Loperliving
LoperLiving.com http://www.loperliving.com/